When considering switching to iSucceed Virtual High School, we know there can be many questions. One of the biggest questions we hear is: "How is iSucceed different from my brick-and-mortar school?" To help you learn more about the differences of traditional school vs. online high school, we've put together a list of comparisons and similarities. Check them out in the circle graph below.
Traditional School vs. Online High School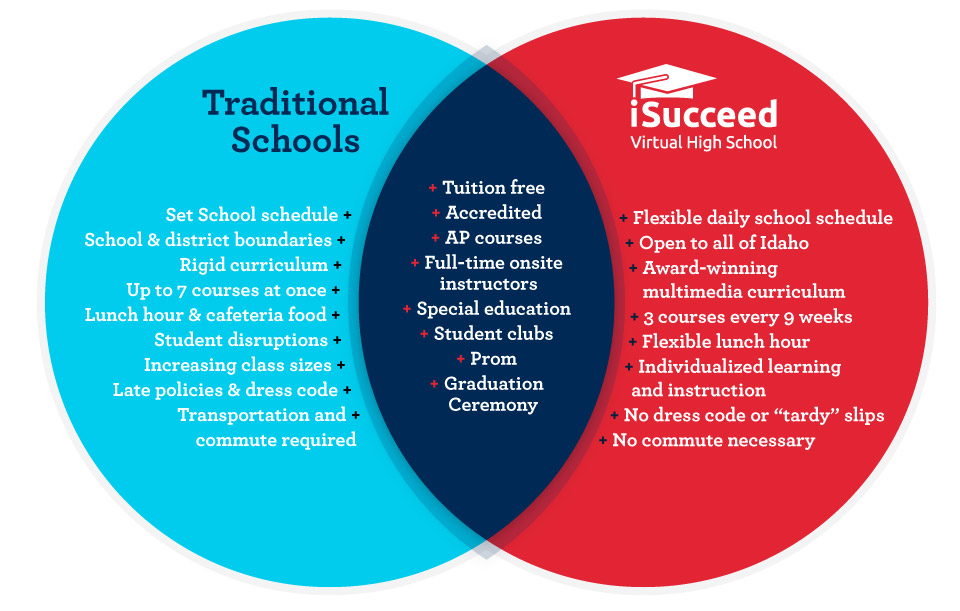 Traditional School vs. Online High School: What Aspects Are the Same?
You can see all of the similarities and differences in the graph above, but let's break it down. Chances are, you might be surprised to see many great similarities between iSucceed Virtual High School and a traditional school.
Tuition Free
Accredited
Highly Qualified Instructors
Dual Enrollment & Honors Courses Offered
Special Education
Student IDs
Student Clubs
Prom
Graduation Ceremony
Just like your traditional brick and mortar school, iSucceed is tuition free and accredited, with highly qualified instructors. We also offer many of the same programs as your schools, including dual-enrollment and honors courses and a special education program. We offer a tailored education and work personally with any individuals needing an IEP or 504 plan.
What's more, you can still enjoy student clubs and prom at iSucceed! Students at iSucceed are welcome to join a student club, and can attend in-person school events every month. We also hold a prom annually open to all 9–12th grade students, along with graduation ceremony for our seniors.
Traditional School vs. Online High School: What Aspects Are Different in Online School?
Serves all of Idaho: no district boundaries
100% online
Courses can be completed on student's schedule
No disruptions from classmates
No late policies or dress code
Two classes every six weeks
Personalized attention
Award-Winning Curriculum that's fresh and relevant
Of course, there are some major differences in a traditional school vs. online high school. The obvious one is that iSucceed is 100% online. That means you can attend school anywhere in the state of Idaho where you have access to a computer and internet connection. Because we are online, students often enjoy a flexible schedule. While there are weekly course assignments and lessons, students can choose the time and place they complete school work.
Plus, iSucceed offers three courses every nine weeks, to help students focus on what they're learning, catch up on credits or even get ahead and graduate early. We also have award-winning curriculum complete with instructional videos, educational games and graphic novel stories! You can read more about it in our blog post.
Classes start August 22, so be sure to enroll by August 19. For more information on iSucceed Virtual High School, click HERE or give us a call at 208.908.6250.
Do you have a question about online high school? Share with us in the comments below or give us a call at 208.908.6250.